Apartments in Downtown Waxhaw, NC
Live close to everything when you live with us! Ardmore at Price is located in the charming heart of downtown Waxhaw, NC within walking distance to so much! The Downtown district along North Main and South Main features popular cafes, cozy taverns, and unique specialty shops. A quick stroll will take you to the popular Emmet's Social Table for lunch and Waxhaw Creamery for a sweet treat. Or explore all the shopping that downtown offers such as Antiques on Main or Waxhaw Candle Company. Check out what some of our residents have to say:
"Love the amenities as well as the location. It is walkable to downtown restaurants and events." - Mary, Verified Resident

"The location is fantastic for walking to everything in Waxhaw!" - Jason, Verified Resident

"Love the pool, pool table, free coffee, gym, and vicinity to downtown." - Norman, Verified Resident

"Property is clean and walking distance from anywhere in Downtown Waxhaw. Just a great place to live." - Brian, Verified Resident

"Spacious & well appointed apartments, great amenities, easy, secure access, safe area, we walk to everything in Downtown Waxhaw." - Edward, Verified Resident
Check out some of our favorites!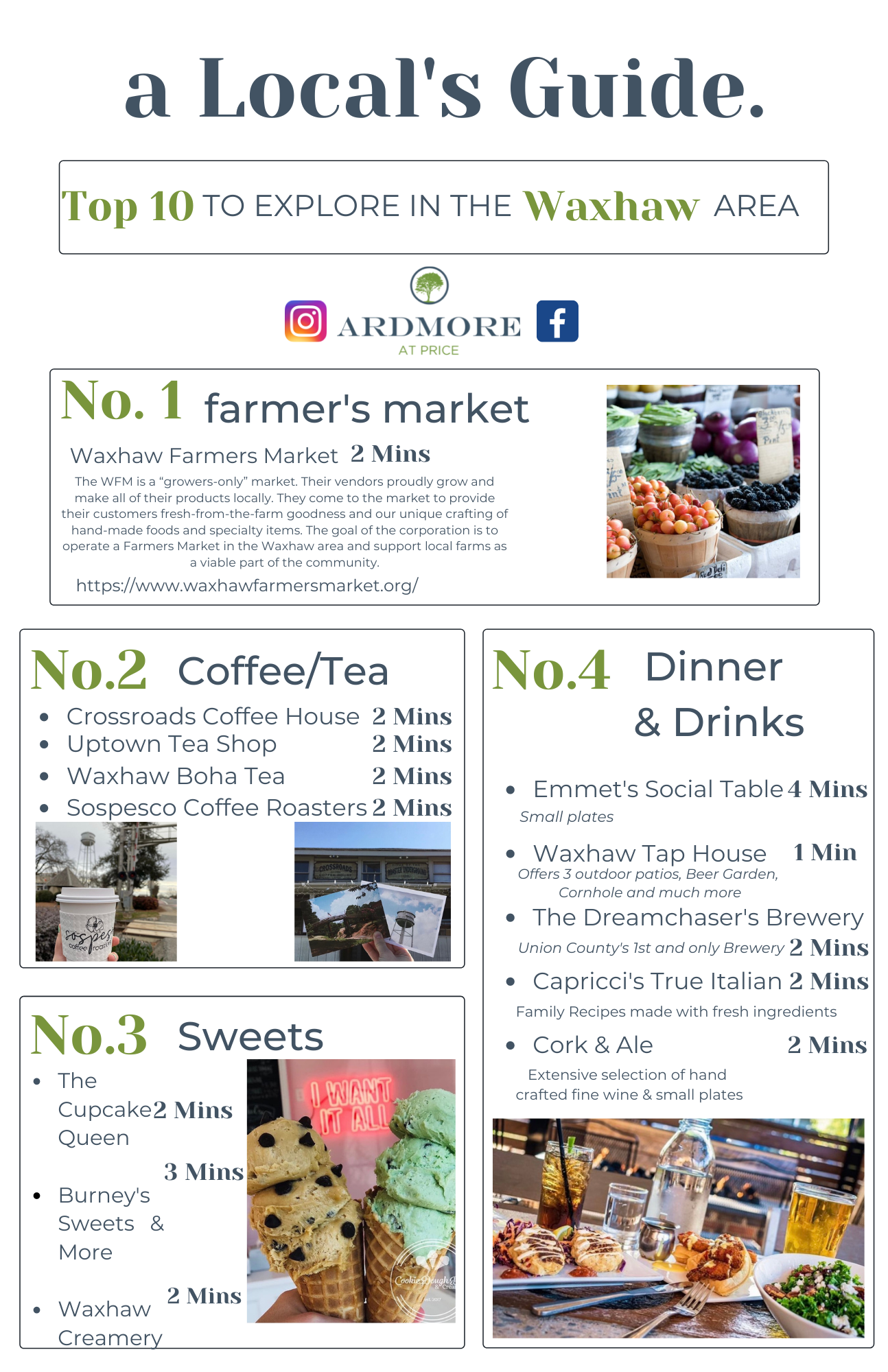 https://cdnbetacf.rentcafe.com//dmslivecafe/UploadedImages/087fb187-43b2-427f-8593-01c1be90a1eb.pnghttps://cdnbetacf.rentcafe.com//dmslivecafe/UploadedImages/087fb187-43b2-427f-8593-01c1be90a1eb.png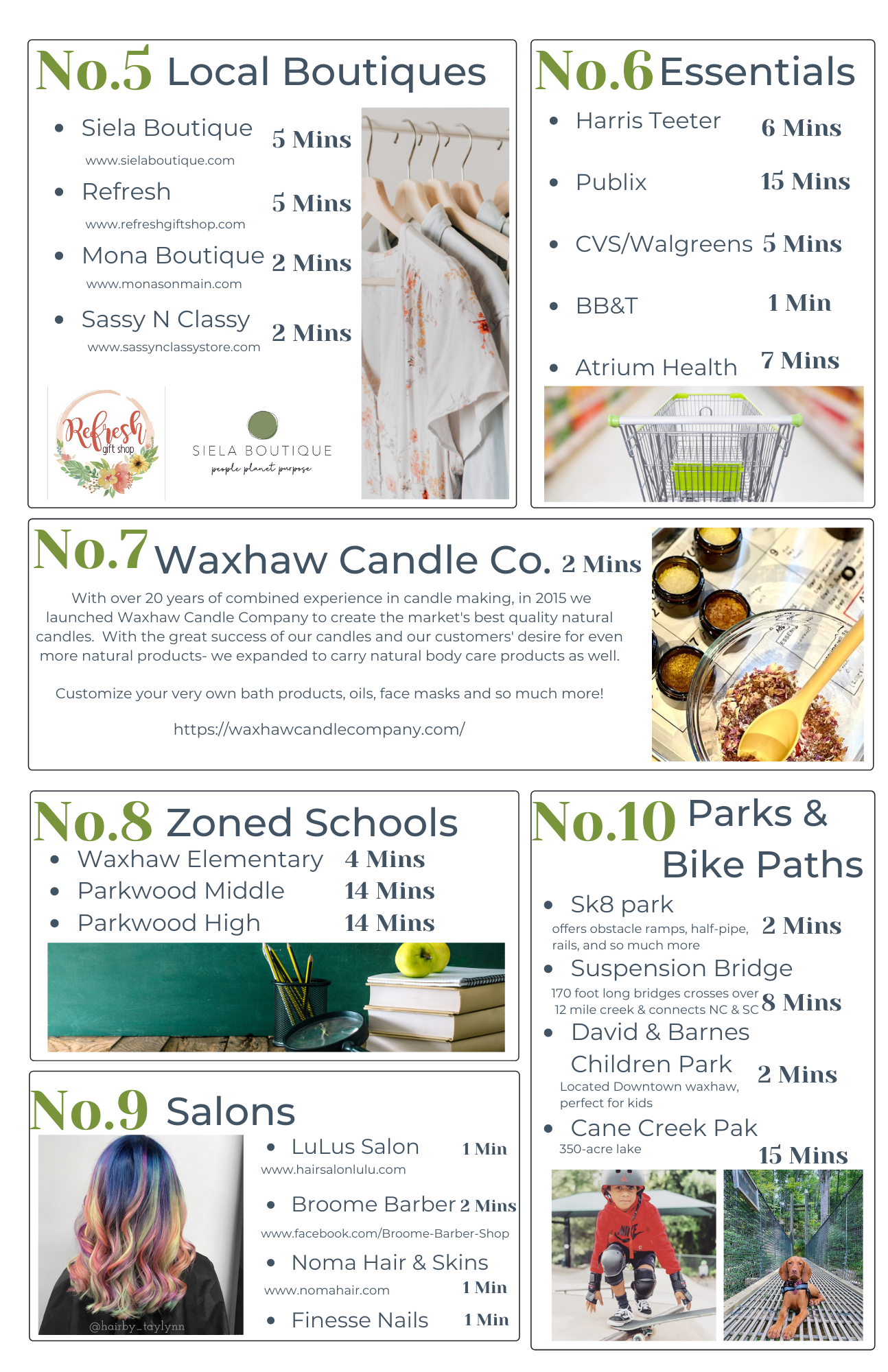 Testimonials
I love this place. Staff is nice. Neighbors are awesome.

- Mark, Verified Resident
This is a nice community and I'm excited that I picked Ardmore at Price.

- Jessica, Verified Resident
Love the amenities as well as the location. It is walkable to downtown restaurants and events.

- Mary, Verified Resident
Service is great! Quick replies to everything.

- Casey, Verified Resident
The location is fantastic for walking to everything in Waxhaw!

- Jason, Verified Resident
Ardmore is a nice apartment to live in.

- Amber, Verified Resident
Property is clean and walking distance from anywhere in Downtown Waxhaw. Just a great place to live.

- Brian, Verified Resident
Apartments are spacious and location to downtown is great.

- Diane, Verified Resident
Love the pool, pool table, free coffee, gym, and vicinity to downtown.

- Norman, Verified Resident
We love the location in downtown Waxhaw!

- Kristen, Verified Resident
Spacious & well appointed apartments, great amenities, easy, secure access, safe area, we walk to everything in Downtown Waxhaw.

- Edward, Verified Resident
The Ardmore at Price community is clean, ideally located in beautiful downtown Waxhaw and offers great amenities.

- Karen, Verified Resident